Jubliee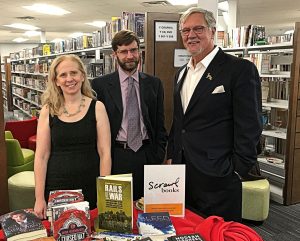 The Fairfax Library Foundation supports twenty-three branches of the Fairfax County Public Library which in turn serve the 1.1 million citizens of its Northern Virginia jurisdiction.
Both the Foundation and the Library are wonderful organizations. I was honored that Rails of War could play a small part in the Foundation's Jubilee annual fundraiser. I am also proud that my lovely and talented wife, Kathleen, serves as the Foundation's treasurer pro bono. So, yes, who you know matters.
The Jubilee was a typical evening of schmoozing, perusing, and trying to look dignified while you casually wolf passed-hors-d'oeuvre or trundle through the food line. My wife mingles savvier and moves more elegantly than do I so I always follow her lead. If you were writing a short story about me at these events, the plot would be "fish out of water." The Jubilee featured a silent auction, an area where you could take photos with cardboard celebrities and, thankfully, brief speeches by county politicos and acknowledgments from the podium for volunteers, and staff, and work well-done. By the way, they didn't have a cardboard cutout of Edward Norton's Death to Smoochy character, Sheldon Mopes, so I wasn't interested in a picture. Kathy went with Benedict Cumberbatch.
But, before I go on, I'd like to explore the anthropological possibility that the human form has yet to evolve to take advantage of the resources offered at a Jubilee. Here's the problem. You get a drink and begin moseying into the crowd. Then, the first passed-hors-d'oeuvres come within reach. That's when you realize that three arms may be an evolutionary advantage. The hors d'oeuvre you've set your sights on is usually separate from the prerequisite paper napkin, and your drink is in your dominant hand. So, how do you arrange the morsel and napkin then make off with your bounty? The answer is, for me, awkwardly. Or, ham-fistedly. Or, at last night's Jubilee, prosciutto-fistedly. Then, with your reward collected, what if someone wants to shake hands? Or, what if you need to clap? Luckily, this may only be a niche defect, not as looming as say dodging cheetahs on the savanna.
Back to my point, the Fairfax Library Foundation invited me to be a part of their local author presentation, and I was honored. Rails of War was offered for purchase at the Jubilee by Scrawl Books an independent bookseller who supports local literacy efforts and freedom of speech. Ms. Rachel Wood, a former librarian, is the owner. So, thank you Ms. Wood, Scrawl Books, and the Foundation for all of your work supporting the Library and our vital literary community.