Key to Success
Key to Success
Key West is good weather and good food. It's also good people. Kathy and I have been fortunate to visit her aunt and uncle here on many occasions. Coming here in February is a treat not just for the tropical heat and humidity, scurrying iguanas, free-range chickens, and randy roosters, it's also Kathy's last chance to live a little before the CPA prison known as tax season. And, this visit had a bonus.
Michael Nelson at the Key West Monroe County Library organized and promoted a Rails of War presentation. Thanks, Michael. We set up outdoors on the library's patio, and it was well attended and well-received. Key West in the winter draws a fair number of retired military folks, so we had quality interaction. And, here's a special thanks to Robin at Books & Books who handled the retail. Books & Books is an excellent business and worth a visit if you're in The Conch Republic.
Aunt Kathy and Vince went all out. After the presentation, they hosted an after-reception. Great party. Since the crowd was smaller than at the library, we had a chance for more in-depth dialogue and I had many "productive" conversations. Here's to Steve for helping me with a "what to write next" challenge. Here's to Lee for intro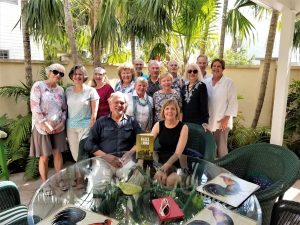 ducing me to the U.S. Coast Guard cutter, Ingham. The ship served for fifty-two years, from 1936 to 1988, and received two Presidential Unit Citations for extraordinary heroism in action against an armed enemy. The vessel is now retired and welcoming visitors in Key West. From its deck is probably the best place to watch the much-anticipated sunset. And, here's to Dodie for offering to share her father's war artifacts. He was one of the brave men who flew the hump in CBI.
Finally, here's to all the fun-seeking tourists on rented motor scooters and the laid-back locals. Enjoy the sun and fun, and we hope to see you on our next solar circuit. The library invited me back next year.  – SJH